Customer Reviews & Stories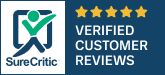 Leave Us a Review
We want to hear about your experience at Baxley's Auto Repair.
Click on a logo below to leave us a review on your favorite site. This takes just a few minutes and we appreciate you taking the time to do this.

Customer Reviews & Stories

"My experience was positive, from the time the appointment was made to the explanation of the inspection findings."
Harlan N.
"I feel extremely lucky to have been told about Baxleys from a friend. I can drop my vehicle off in the evening with a note on what needs to be looked at and they getterdun! I have had them replace both the motor and transmission in my truck and I couldn't be happier with the results. This last trip I went in for an electrical issue and they also discovered my serpentine belt was cracked and worn out. Thanx Baxleys!!"
Mark J.
"My new Shop! My honda accord had broken down on a Friday, and right after the weekend I called Baxleys and they immediately were on top of things. I needed a tow truck and they called one and they were at my house in ten mins. They worked on my car for 2 and a half days making sure everything was perfect and nothing was still messed up. They call frequently to let you know how your vehicle is doing. My car was a one owner before me and since going to baxlys it runs better than it did when i first got it! Very Pleased and will continue to use this shop!"
Tabbitha Wise
"Fantastic! Customer Service was Excellent!"
Karla S.
"Friendly, Helpful, Knowledgeable and Professional"
Randy T.
"Honest. Explained what was done and not done and why."
Rick S.
"Again, all I can say is if you are seeking an honest and friendly auto repair service, go to Baxleys Auto Repair. We don't go anywhere else for any of our repairs/maintenance/general upkeep."
Linda J.
"Never had better service and responsiveness from an auto repair business."
Bob W.
"They service my company vehicles (3) and daughter's vehicle. As well as my business partner's family vehicles. They are always prompt on their schedule or upfront and realistic about getting my truck back to me. The bills are always in line with work performed and cheaper in most cases from others I've used in the past. I also buy my tires from them after bad experiences elsewhere. I've dealt with owners or service techs. Either way you feel like your covered."
Darrel J.
"Great. Willing to stay late to help me. Quick service and very affordable. My new shop!"
Dennise
"I have been a customer for quite a few years, being a female, one never knows how an "auto repair" shop will treat them; my experience with Baxleys, they are always honest and never do any work on any of my vehicles that is "not needed." I feel very fortunate to have found them to take care of my vehicles."
Linda J.
"I won't let just anybody work on my trucks. They aren't just anybody.They do a quality job for a fair price, and are always willing to help me when I need work done. Been getting work done here for 20 years, and will keep coming back."
John A.